Daughters of Darkness is a collection of fine art portraits of women in corpse paint. A nod to black metal and doom album cover art, Daughters of Darkness was photographed over 10+ years, with more than 400 models from all over the world, almost all of which did their own corpse paint and are fans of black metal. Daughters of Darkness features many celebrities, actresses, musicians, and models (some under the cover of corpse painted anonymity) all of whom donned only corpse paint for this book. Photographed by internationally renowned music and fine art photographer Jeremy Saffer, this project combines both his music photography and fine art photography worlds into a single project, which was conceived to capture the memory of flipping though albums in a music store and buying albums based entirely on the albums cover art (which often featured a nude portrait, someone in corpse paint, or both) prior to knowing the music or the band. Like the music that inspired it, Daughters of Darkness shows the duality of finding beauty in dark imagery, and finding darkness within beauty.
Covid-19 and
Payment Plans
We all understand that these are difficult economic times dealing with Covid-19, so we have coordinated with
to offer payment plans on all Daughters of Darkness preorders as available.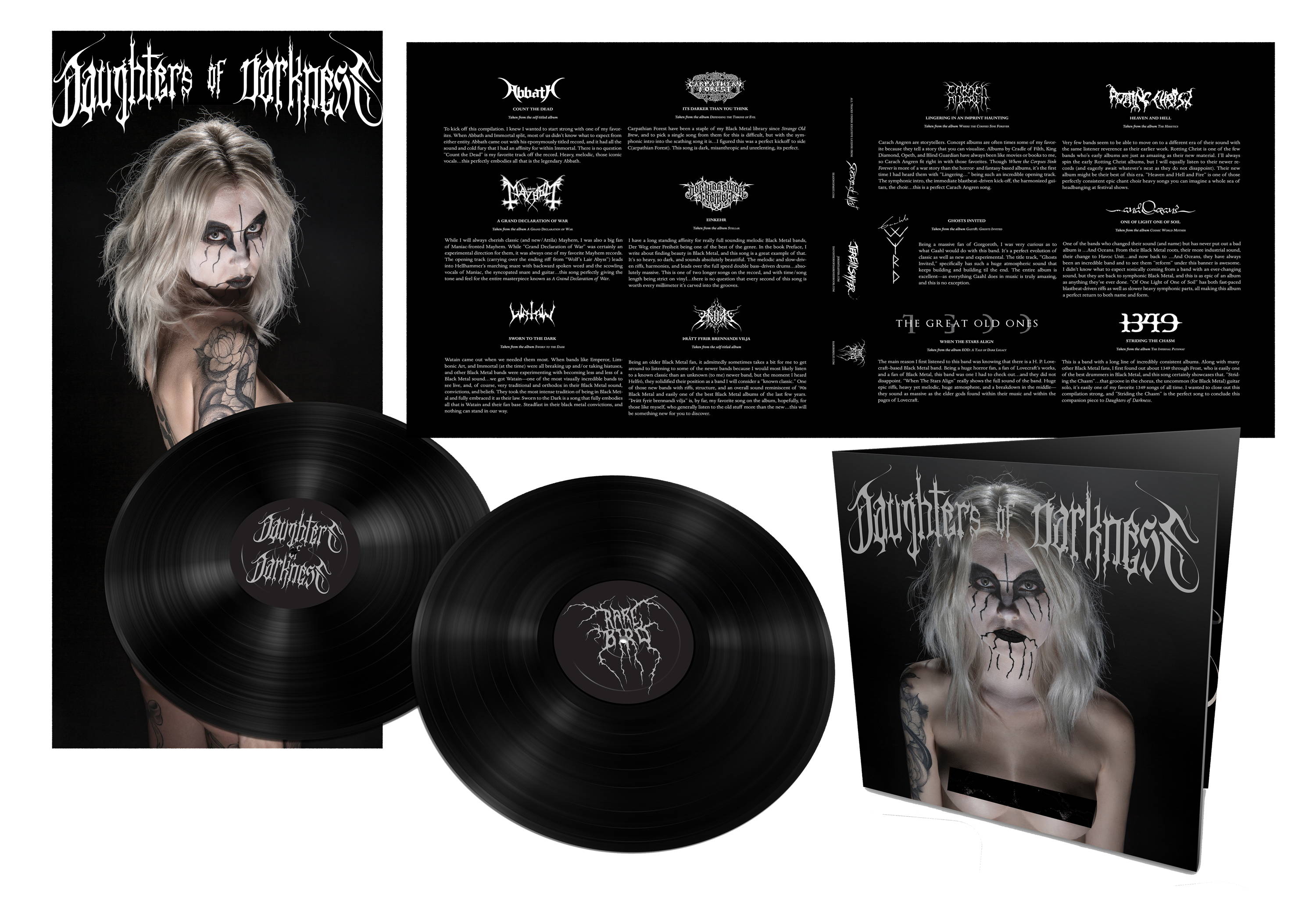 In collaboration with Season of Mist, we are very excited to announce that all customers who preorder signed bundles from upper tiers (Bathory Edition, Extra-Bloody Edition, and True Daughters of Darkness Edition) will receive an exclusive, limited-edition 2 x 45rpm gatefold black-on-black vinyl Daughters of Darkness soundtrack compilation (featuring Abbath, Mayhem, Watain, Carpathian Forest, Carach Angren, Gaahls WYRD, The Great Old Ones, Der Weg einer Freiheit, ...And Oceans, Rotting Christ, Helfró, and 1349) curated by Jeremy Saffer.
This double gatefold vinyl release includes twelve bands, over 60 minutes of music, exclusively licensed from Season of Mist, and a 24x12 full-color poster insert.
If you've already preordered a signed Standard Edition Bundle and would like to upgrade in order to receive this exclusive bonus item, we've activated upgrade links here to upgrade to an upper-tier bundle. If you have not yet placed an order and would like to do so, please please use order links below for each respective signed preorder bundle.